I finally got around to seeing Hustlers, the film starring Constance Wu as Destiny, a stripper who gets roped into a con run by Ramona, played by Jennifer Lopez. Personally, I wanted to see Cardi B tap into her stripper girl history to portray the character Diamond. Furthermore, I just knew J. Lo's body and pole dance skills might inspire me to hit the gym or at least not get the extra large popcorn at the food stand.
As I observed the film unfold, I thought about my own research on exotic dancers and how closely what Hustlers portrayed aligned with my findings. The ways it did not seemed obvious to me. Most women in the strip club do not rob their clients or perform sex acts for extra money. Most exotic dancers make enough to get by perhaps for that week, but certainly not enough to buy expensive bags, clothes, or apartments. Most strip club clients, though men, do not work on Wall Street and can not spend upwards of $10,000 every time they get in to the club.
Other than these aspects of the film, several aspects of the story stuck out to me because they reminded me of what I had observed or had reported to me by the Black women exotic dancers I had studied.
Men who work at the club tax dancers' earnings for their own gain
One of the earlier scenes in Hustlers depicted Destiny after a shift at the club. Most people assume exotic dancers make a lot of money, possibly due to fictional depictions like the one below of the women crowded around Tracey, played by Trace Lysette, as dollar bills fly through the air.
Occasionally patrons due make it rain in real life, however, dancers don't often to get to take all that cash home. Just like Destiny had to give a portion of her earnings to the men who managed the club, dancers have to pay various fees known as tip-outs. This occurs due to the purposeful misclassification of most dancers as independent contractors.
Desirability depends on stereotypes about race and ethnicity
Another scene that reminded me of my research involved how clients and Ramona responded to Destiny. Though the film never addresses which Asian country Destiny's family hails from, the parents of Constance Wu who portrayed her come from Taiwan. During a scene where Destiny turns to Ramona looking for advice about how to increase her profit, Ramona quips that Destiny shouldn't have trouble securing the bag because she's Asian. At another point in the film, a white man client who wants Destiny to perform a private dance for his friend calls her Lucy Liu, referencing an American actress of Chinese descent.
Sociologist Siobhan Brooks describes the racism that pervades the strip club industry in her book Unequal Desires. The findings in this book show that unlike Hustlers, Asian women perform in the same clubs that hire White eurodescendant or Latina women, but not as often in the clubs that hire Black or dark-skinned Latina women. Indeed, the Black women I surveyed indicated they rarely performed in clubs that serviced Asian customers or hired Asian dancers.
Jealous boyfriends have a hard time separating the exotic dancer from the woman at home
One of my favorite scenes in the film depicted Tracey confronting her jealous boyfriend who had come to the club demanding that she come back home. Tracey reminded her lover that he didn't have enough money to pay rent on his own. Further, she had no intimate feelings for the men she performed for.
Both the Memphis-based dancers I did follow-up interviews with after they completed my online survey indicated that while they did have boyfriends, they grappled with issues of jealousy in their relationship. While they considered their identity as dancers distinctly from themselves at home and off the job, they found the men they dated failed to make the distinction.
There is a real sisterhood in the locker room
I really enjoyed the way Hustlers depicted the women in the locker room. Several scenes showed how the locker room provided the dancers a space to connect and commiserate. My own nonparticipant observation and content analysis of Black women exotic dancers on Instagram showed that the locker room provided more than a storage for clothes.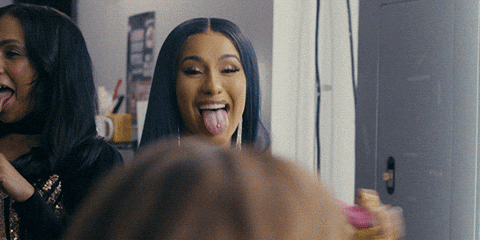 Dancers I studied would use the Instagram live feature to film themselves doing their hair or makeup as they prepared to go to the front stage of the strip club. This live streaming often featured other dancers who laughed, joked, and danced alongside their coworkers. Still, not all locker rooms are created equally. A 2016 study by sociologist Liz Mount published in the Journal of Contemporary Ethnography indicates the precarity of wages earned in exotic dance leads to competition for tips. Hustlers showed this later in the film when Ramona and Destiny returned to dancing, only to find that the camaraderie of the locker room no longer existed after the 2008 recession as difficulty earning tips increased.
Many exotic dancers have an entrepeneurial spirit
Ramona showed Destiny that she desired to start her own swimsuit line. She used her free time to conjure up designs and had even gotten a mockup for a logo. My own research revealed that many Black women exotic dancers had a desire to become entrepreneurs after they left their careers as exotic dancers.
Additionally, many of the dancers I studied through nonparticipant observation and content analysis used their Instagram to advertise their home-based businesses alongside their images as exotic dancers. This duality as an exotic dancer and entrepreneur occurs so frequently that Gizelle Marie, an exotic dancer, and activist based in NYC, coined a term for it – strippreneur. 
Most exotic dancers work to take care of their families and children
I absolutely loved the way Hustlers showed the home lives of Destiny and Ramona. People have the misconception that exotic dancers perform because they are working class with no skills or experienced sex trafficking and abuse as children. While many dancers do come from working class backgrounds, lack of skills has little to do with why their turn to exotic dance.
Instead, as the Black women exotic dancers I surveyed indicated, their labor afforded them and their families a source of income. Furthermore, this income often supplemented the work they did outside the club, as the movie showed with Mercedes, portrayed by KeKe Palmer, who worked at a retail store in addition to working at the club.
The economy has a serious effect on the livelihoods of sex workers
The entire premise of Hustlers revolves around how a group affected by the flight of their client base from the club during and after the 2008 economic recession grappled with the change in the source of income. As stated previously, most dancers did not respond to the slowdown in foot traffic to their place of work by running schemes. Still, the pace of the economy does in fact have an effect on sex workers and not just in the exotic dance industry. Diamond Stylz, one of the hosts of the podcast Marsha's Plate, referenced her own experience as a sex worker during this time period. According to Diamond, some women who worked in prostitution and escorting only saw clients once a month after the economy crashed.
Since the women in my study have the benefit of working in the recovered economy of the late 2010s, none of them thankfully have reported this experience. Still, research in the sociology of sex work suggests that one reason why the economy affects sex workers so severely relates to how consumers perceive their labor. As long as we consider sex work to amount to a form of leisure, people will eliminate their spending on even their most favorite sex workers when money gets tight.
Final thoughts
I really enjoyed Hustlers and the way they told the story. Nevertheless, I recommend taking this depiction with a grain of salt. For the facts about exotic dancers, consider reading the work of Siobhan Brooks, Mary Trautner, and Liz Mount. Stop by your local strip club – though I can't promise it will be anything like what you see in fictional depictions. I also recommend following exotic dancers on Instagram, Twitter, or other social media platforms. However, do bear in mind the implementation of policies like SESTA and FOSTA, threatens the ability to connect with sex workers on the internet. Keep informed about these policies and activism around issues that affect sex workers rather than rely solely on Hollywood portrayals to tell you about their lives.